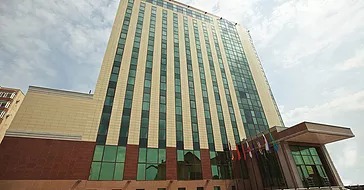 Kazzhol Astana 4*
Kazhol Hotel Astana – a new, modern 10-storey hotel, offering guests a wide range of services and quality service.
There is a restaurant of Uzbek cuisine "Fergana" service spa and fitness center services Business center 24 hours, and we provide services for the registration of foreign citizens and provide transport service.
About 5 minutes drive from the Palace of Peace and Accord (Pyramid), the new Congress Hall, the Palace of Conferences Shabyt, 15 minutes drive from the international airport of the capital.